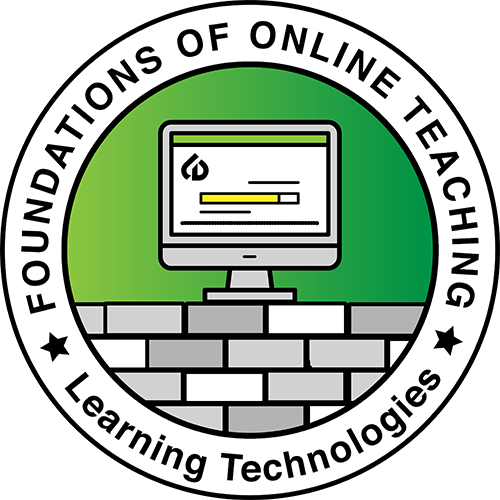 To earn the Foundations of Online Learning badge, register and complete the 5-week Foundations of Online Learning course.
By earning the Foundations of Online Teaching badge, you can show others that you have demonstrated and are thus able to:
Describe and apply learning theories and best practices in online instruction.
Demonstrate competency with the College's learning management system.
Describe the College's processes, resources and expectations for teaching online.
Produce a mini course unit.
Relate to the student perspective of online learning.
This badge shows that you understand the fundamentals of building an online course, and can effectively implement the best practices in online instruction.
Badge Recipients (165)
Abromitis, Barbara
Adebayo, Adeyinka
Arnott-Hill, Elizabeth
Balthazar, Christopher
Barber, Lisa
Benkert, Becky
Benson, Kaitlin
Benz, Mark
Biancalana, Elisa
Bielat, Miroslawa
Bondeson, Jay
Boone, Charles
Burrows, Robert
Buzruk, Anu
Cabai, Katherine
Cable, Katherine
Campbell, Anna
Carey, Amanda
Carey, Connie
Carlson, Bev
Charboneau, Donna
Conneely, Margaret
Cronin, Christine
Crowley, Meghan
Dave, Jagruti
DiGiovanni, Jane
Elston, Amy
Fader, Eric
Farmer, Hontas
Fate, Tom
Fencl, Maribeth
Feulner, Nancy
Fish, Jessica
Foland, Clarice
Ford, Tracey
Frankson, Susan
Galluzzi, Joann
Gant-Misher, Theresa
Geistoraityte, Liama
Giles, Ralph
Gilligan, John
Gjata, Edlira
Glamoclija, Natasa
Gradilla, Marisela
Greenwood, Violet
Griffin, Aris
Groesbeck, Kim
Harabasz, Monica
Harris, Robert
Hartley-Smith, Rachel
Henry, Melissa
Henry, Sherrie
Hildebrand, Loren
Hill, Theresa
Hoppe, Charles
Houda, Shannon
Hufnal, Stephanie
Imamura, Kayo
Jahangir, Nabila
Javed, Azmia
Jemison-Ewing, Infini
Johnson, Deborah
Jones, Jessica
Kahn, Danish
Kakkuri, Amy
Kaushik, Reena
Kelly, Christine
Kempton, Beth
Kerr, Mina
Koenig, Laura
Kopal, Ann
Krenek, Craig
Krohnert, Sandra
Kucera, Molly
Kurby, Sandra
Lee-Diaz, Robyn
Leganski, Julie
Leonard, Pat
Lewis, David
Lezan, Jennifer
Lutey, Larry
MacDonald, Carmen
Mack, Kimberly
Marseille, Jim
McClelland, Pamela
McDuffee, Annmarie
McGregor, Laurette
Mehmeti, Mirela
Micheli, Dino
Montgomery, Jeremy
Morrissey, Glenda
Mortensen, Jason
Nang, Freedy
Narayanan, Usha
Nash, Stamatia
Neubert, Erin
Nikolova, Miglena
Nilsen, Janice
Oehrli, Wanda
Ogle, Donna
Okrasinski, Jim
Palakodeti, Aparna
Panzeca, Valerie
Pate, Heather
Patel, Rita
Perillo, Philip
Petrine, Janet
Pignotti, Jessica
Pitts, Erika
Polad, Richard
Probst, Melina
Randa, Lynda
Richardson, Jennifer
Riker, Amy
Robinson, Sander
Rogers, James
Roimicher, Vanesa
Rose, Julie
Roth, Veronika
Russ, Sarah
Samuel, Ellen
Sarther, Lorena
Scescke, Patricia
Schenke, Kevin
Schreier, Jennifer
Schuber, Amy
Schultz, Linda
Schweer, Margaret
Scurlock, Taurus
Shaffer-McCarthy, Elizabeth
Shariff, Sabeeha
Shariff, Sabeeha
Shcherbakova, Marta
Siripuram, Ramakrishna
Solether, Wesley
Spatz, Ashton
Stanley, Shelby
Steele, Daniel
Stinga, Octavian
Stokes, Kelly
Studzinski, Andrea
Summers, Farrel
Sward, Bradley
Szetela, Kathleen
Tan, Eric
Taylor, David
Terrell, William
Thill, Azure
Thomas, Rosamma
Thomas, Mitzi
Todor, Nancy
Trackman, Nicole
Trausch, Georgina
Trestrail, Susan
Ursulesku, Mirjana
Van Veen, Peter
Vatchev, Jane
Vitale, Dan
Walters, Ivy
Walters, Margery
Ware, Sarah
Webb, Shekeita
Whiteside, Diondra
Wielglos, Glen
Wiggins, Victoria
Witt-Vanorny, Julie