If you sign up for any course through the TLC, including those offered by Learning technologies, you'll need to use Cornerstone. Cornerstone is a relatively new addition to the programs we have here at COD, and many may not really be familiar with how to use it just yet. But that's OK, we're here to help.
Here's a quick overview of how to find our courses and register for them using Cornerstone.
To access Cornerstone itself, just navigate to the employee portal and you'll find Cornerstone under Work Tools. Once in Cornerstone, to find any course or workshop being offered by Learning Technologies, type Learning Technologies into the search bar. You should get a list of training results.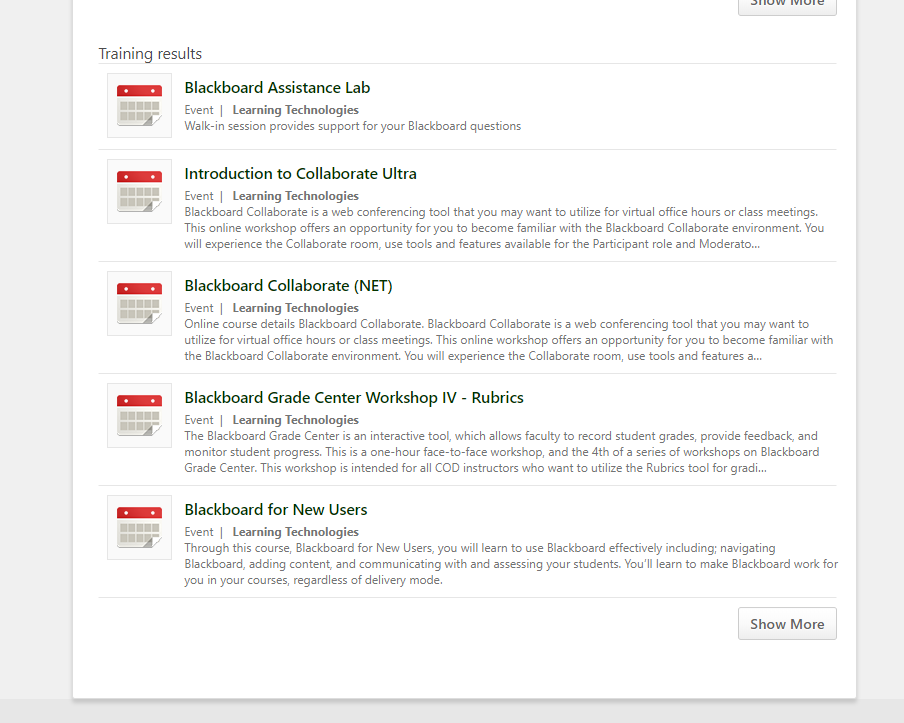 If you know the specific name of the course or workshop that you'd like to take, you can also search that way.
So you've found what you were looking for, now what? Click in the Training Details. From there, you can request to be added to the course or workshop. You can also see how many slots remain. Some courses may have cutoff dates and times for registration but if you've missed them, you may be able to contact the TLC directly for registration provided the instructor or facilitator of the course gives his or her approval (we almost always will, we want you in our courses!).
Overall registration is very simple, but there are some things that might confuse you that you should be aware of when signing up for certain types of courses. We have a few online, always on courses that faculty and staff can take at the time and pace most convenient to them. These courses are entered a bit differently into Cornerstone and may appear to have several sections. In reality, there is just one course and it doesn't really matter which section you choose. Just pick one and you can start learning—all the sessions are identical and enrollment is only necessary in one.
Still have questions about Cornerstone? Contact the TLC for help! They'll be happy to explain how to use the program and get you registered for whatever kind of awesome PD you're looking to take.