Looking to move your in person course online? Hoping to build out some more content for your online or hybrid courses? There are lots of helpful resources out there that can help make the process a little easier.
One of these resources is MERLOT. We'll explain what MERLOT is, how to use it, and why it can be such a handy tool for online teaching and learning, especially if you're in the market for OER.
What Is MERLOT?
MERLOT stands for Multimedia Education Resource for Learning and Online Teaching. The site, developed by California State University, is a repository of online learning resources. While there is some K-12 content, the bulk of the resources on the MERLOT site are aimed at instructors working in higher education and touch on a wide range of subject matter.
What do we mean by online learning resources? MERLOT is essentially a collection of OER materials, so types of content range from simple texts to interactive web pages. Materials are rated and receive community feedback, so it's easy to search for and find high quality resources to bring into your courses.
Why Use MERLOT?
Whether you're teaching online, hybrid or just embracing some web enhancement in your face-to-face courses, MERLOT can take some of the workload off of your back by offering quality educational content that you can use for free. You can pick and choose which resources work best for you or which are of the highest quality, and only use those in your courses.
Additionally, MERLOT currently hosts one of the world's largest collections of open textbooks through their Open Textbook Project. While they may not cover every discipline or subject, there's a wide enough selection to be helpful in building most courses, whether you're relying entirely on OER or are just using it to supplement a textbook or other publication.
Another reason to give MERLOT a try is the community that you can have access to. You can communicate with other instructors on the platform, give feedback, get feedback, find ideas, and share experiences. It's a great way to learn, engage and stay connected.
How to Use MERLOT
The first thing you'll want to do is to create an account on the site. This is relatively simple and won't cost you anything to do. You will need to note your discipline and your affiliation.
Once you have an account you can both browse existing shared resources and create your own to share with others. You can also leave comments and feedback for other members on their content.
Let's take this shared content as an example: DNA from the Beginning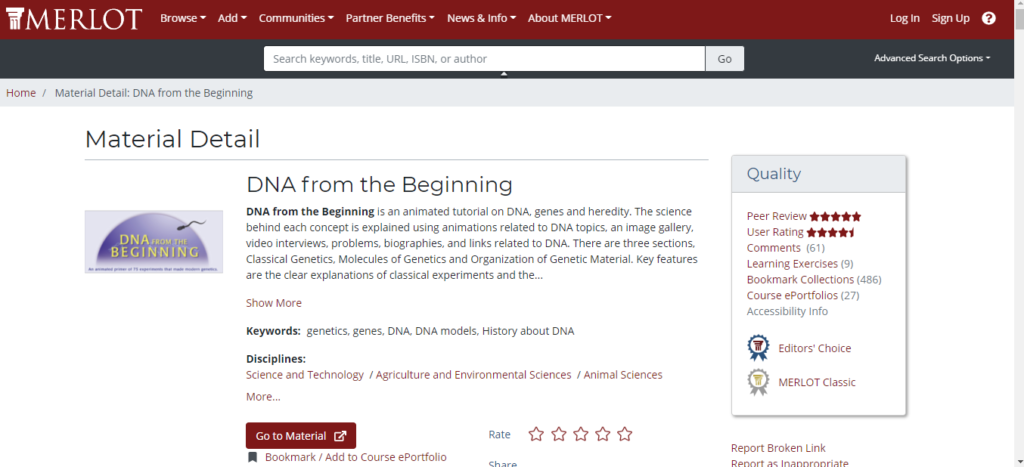 This is a short series of animations on the basics of DNA. If you look in the right hand column, both the user rating and the peer review scores are very high. Additionally, you'll see that it has been awarded as an Editor's Choice and a MERLOT Classic. It's fair to say that this is probably a pretty solid resource, however, if you want to check it out yourself, you'll simply hit "go to Material" and you will be taken to the place where this resource lives. If you like it, you can bookmark it or add it to your ePortfolio. You can also share feedback with the creator and rate the materials yourself.
If you have created your own educational resources you want to share, you can also use the "create" feature to add your content to the site.
Bottom Line
If you're looking to bring some OER content into your courses, there are few better choices than MERLOT. There is an incredibly wide variety of content available and all of it has been vetted by a community of users, many of whom are also subject matter and education experts.