Between the Fall 2021 and Spring 2022 terms, the College will be migrating Blackboard from our self-hosted instance to a cloud-based SaaS instance (you can learn more about what that entails here). This migration means that two important things will be happening:
Due to storage considerations, all courses from SP20 and FA19 will be removed from Blackboard
Blackboard will be down from December 23rd until January 17th and wholly unavailable to all faculty, staff, and students
We've already discussed Exporting and Saving Course Content from these previous terms (remember the deadline is November 15th) but there are a few other things that can help you get ready for Blackboard's "long winter's nap" and set you up for a much easier return for the Spring Term.
Prepare for Spring 2022
All of the content saved to the current Blackboard system by December 23rd will be migrated over to the new SaaS system. This means that you are able to prepare your courses for the Spring Term ahead of time, should you want to do so. Here are some helpful resources to assist you in this process.
Importing Courses in Blackboard If you have the time before the migration, importing your courses for the Spring term will help you be ready to go once Blackboard is back.
Check your course size. Cleaning up your courses and moving videos and large files to other storage solutions will help you optimize content delivery for students, makes it easier to find files from term to term and helps manage course storage limits.
Manage Video Content
The weeks leading up to the SaaS migration are the perfect time to transfer, store, organize and create new video content.
Downloading Files from Your Blackboard Course If you have any large files (those over 100 MB) in your courses, you can download them directly from the Blackboard content collection. You will also need to remove these files from your course after they have been saved and/or uploaded to YuJa. See the video below for a step-by-step guide to this process.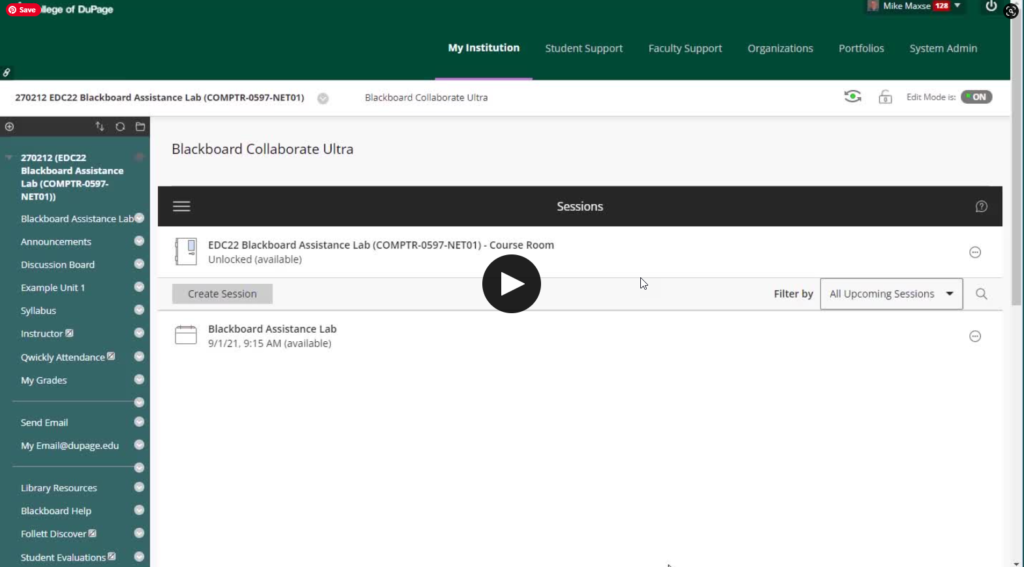 Upload Videos to YuJa This is a great time to start utilizing YuJa for your video creation and storage needs. You can use YuJa to: 

Create new video content both on your desktop and mobile devices
Share videos with students 
Add captions
Store and organize your video content 
For help using all of the basic features of YuJa, visit our Ultimate YuJa User's Guide, which covers all of these topics and more.
Manage Large Files
Videos aren't the only large files that can contribute to overly large course sizes. PowerPoints, images, and other kinds of files (even those shared by students) can also take up lots of space. It's best to keep files over 100 MB outside of Blackboard using a cloud-based storage solution like OneDrive.
Submit Grades
All grades MUST be submitted by the college deadline of Wednesday, December 22nd. There will be no access to Blackboard or the ARI tool after this date (not to mention nearly all COD staff will be on Winter Break and not available to assist you).
Export Your Gradebook Whether you're submitting grades or just want a backup, you can easily download all grade information from Blackboard.
Entering Final Grades Before Blackboard goes down, you'll need to input your final grades using the ARI tool.
Final Grades FAQs Have questions? This FAQ may help.
If you have any questions about submitting your grades using the ARI tool, please let us know! We're happy to help.