Adobe Spark launched in May of 2016, so it's relatively new technology, but if you haven't heard of it or tried it out yet, you definitely should.  In its first year it was awarded Best App of the Year by Apple (notable, considering the past animosity between Adobe and Apple) and it's since been downloaded more than 3.5 million times. That growth in use is for a reason–it's a really great tool. Though there are a wide range of applications for Spark, it can be an especially great tool for the classroom. Let's look at what it has to offer! In a hurry? Skip to the TLDR;.

What Is Adobe Spark?
Adobe Spark is actually composed of three separate but connected tools: Spark Page, Spark Post and Spark Video. All of these can be used on their own or brought together to tell a single unified story. Spark can be used directly on the web from the Spark website, or though the Spark app on any mobile device or tablet. This is incredibly useful for students who may not have access to a computer, but who may own a smartphone or tablet. Even better, Spark is free to use, though there is premium content available at a cost.
Adobe describes Spark as a storytelling tool, allowing users to create and share video, text, and visual content and all of these elements can be placed onto a single page.  Users can create a layout from scratch or use one of many templates and themes available on the site.
Once a Spark page is complete it's easy to share through a link or on any social site with the click of a button.
Why Use Adobe Spark?
There are a few reasons to use Adobe Spark over some of the other tools out there. One is that its free and multi-platform– any student can use it from any device at no cost to them or you. All they need is some kind of connection to the Internet. Another is that it takes almost no time to learn how to use. Try it for yourself. It's incredibly easy to see how to bring in all the elements that can be placed on a page and thanks to the templates, it takes almost no effort to make something that looks professional. Easy on the students and easy on your eyes. Finally, it's just a really cool way to bring together a wide range of types of media into one format. Students can explore a wide range of creative outlets and find ones that suit their preferences while still meeting the requirements of the course.
Outside of the classroom, Spark also provides an opportunity for students to easily show off their best work in their courses for internships, applications to four-year programs or to potential employers. It's an easy and attractive way to showcase what they've learned and take it with them after graduation.
How Can You Use Adobe Spark?
Adobe Spark can be an incredible tool for student portfolios, learning journals, and online projects. You can have students keep a course-long journal, make short videos, integrate graphics they've created, showcase research, give presentations–the options really are wide open. What's really great about Spark, is that it makes it easy to integrate all of these things into one single page, and one that looks really fantastic without too much effort to boot.
Here's a link to a demo that we made to show off Spark: All About Puffins (a Spark Demo).  This particular example focuses on puffins, but Spark is useful for just about any subject matter from physics to history.
In this example, you can see all the different elements that can be added to a Spark page: photos, text, buttons, videos, photo grids, glideshows and split layouts. Within each of these elements, there are also options, as you can see below: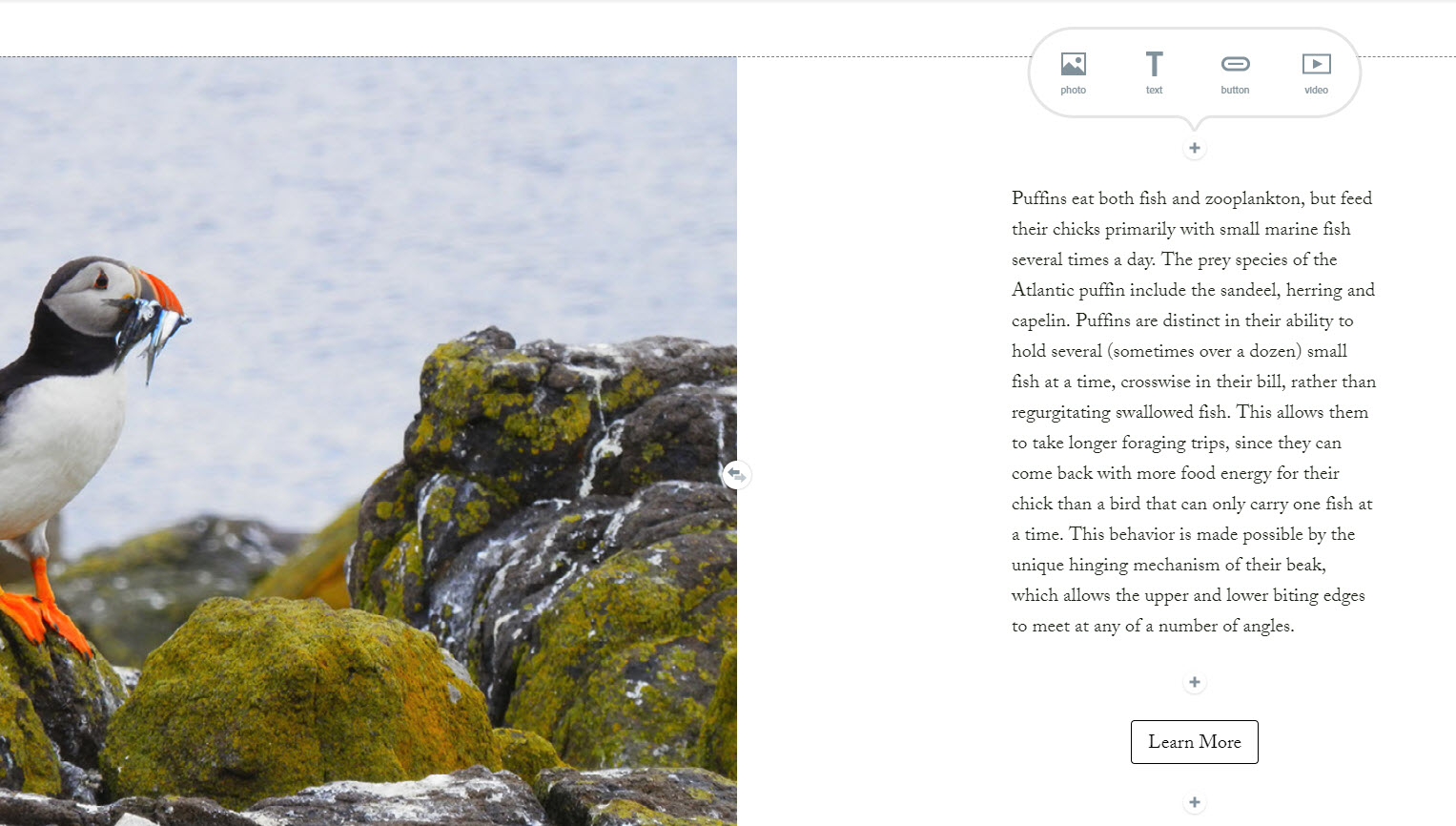 These menus automatically show up anywhere items can be inserted into a page and are accessed simply by clicking on the little plus sign. Here, in this split page, you can see an example of a button, which goes to an outside website about puffins.
Students can also create what's called a "glideshow." This is a series of images that can have text or buttons overlaid on them and operate much like a traditional slideshow that students might create in PowerPoint or an equivalent application.
Curious how to actually use Adobe Spark in practice? Here are a few examples and tutorials from other teachers and instructors:
Spark can be home to a lot of different types of projects including journals, mini-documentaries, foreign language practice, creative resumes, lab reports–it's truly a versatile tool and one that deserves a look, especially if you're teaching online. Additionally–keep in mind that students can use each of the sub-elements of Spark individually as well, which can help them build slideshows, create posters and graphics, or edit instructional videos. You can see a list of the types of projects available here.

TLDR;
Let's get to it: Adobe Spark is a powerful storytelling tool that's free to use and fully-featured.
Pros: Free, works on computer or mobile device, highly adaptable, can apply outside of classroom, aesthetically pleasing, easy to use.
Cons: No big cons, just may not be the right fit for every classroom or every assignment, as any other tool might be.
Verdict: Adobe Spark is definitely worth checking out if you're looking for a portfolio or learning journal tool for students or a new way for students to show off their work in your course. You may find yourself using it for presentations and projects of your own.