But there is this pandemic thing.
What do we do if the college has to close because of the COVID-19? We know quite a few campuses have already closed and others are taking measures in case they have to.
In this post, I do not want to discuss what our institutional response should be. You have seen the announcement and new page on our website.
Also please go check out Jenn Kelley's post on her faculty professional development blog. It contains a lot of good general advice on migrating from face-to-face to remote mode.
The way I see it, we have a lot of tools that would help us migrate relatively seamlessly, should we need to BUT, I think there are a couple of things to take into account:
If you have not really used any Blackboard features (except for the syllabus posting), it is going to be a steep learning curve and I would start learning a few easy things now.
Fancy features like Collaborate look really nice to use, but keep in mind that many of our students do not have super expensive computers with a ton of memory and processing power that would allow them to use Collaborate efficiently. So, personally, Collaborate would not be my #1 go-to tool.
If you have not yet done, so, now is the time to get acquainted with all the resources available for remote instruction in our Library:
I am among the lucky few whose load is majority online, so disruption, for me, would be minimal. In addition, I am already a pretty heavy Blackboard user so, even my f2f classes have strong Blackboard components. Here are some of the key features I use in all my classes that you might want to consider if you are not using them already (all links to the Blackboard documentation):
When it comes to content, Blackboard gives you different options: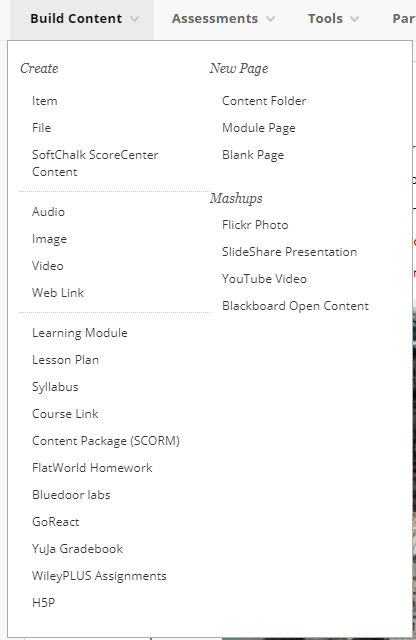 Personally, I avoid the Audio / Image / Video options. I just create an item and upload audio, images, and videos directly there. It does help to know a bit of html, because, sometimes, Blackboard does funky things with tags and I have to do some cleanup. I attach any file as needed. The item feature can also accommodate more than one object (text, files, image, videos, links) so you can gather different content types in one place. If you have a lot of content, folders and learning modules are your friends.
When it comes to creating content then, the item feature, again, is the easiest way to do that. But what about creating videos. My own workflow goes like this:
Screen captures (like the video demos I created for this blog): I use Camtasia Studio (I have my own version at home because I am the queen of doing things in the middle of the night, but our media lab has it too). You might want to book some time in the media lab to start using at least its basic features.
Camtasia can also create audio tracks, if you want to use that for content or for feedback to assignments.
Yuja, available through Blackboard and here can help you also create or link to videos and include quizzes (that can be integrated into the gradebook). So, if we are all stuck at home and you want to make your content a bit more interactive, then quizzing via Yuja is a really great option.
The quizzing apps, such as Socrative, can be used remotely. You can decide how long you leave an activity open but since your students complete everything through the app, it is easy for them to do it, and easy for you generate result reports and share them as document or through screen capture as you discuss the results. I would use the Space Race feature just to make it more fun.
But how can you make sure that you don't lose students along the way? Well, you can't. A lot of students sign up for f2f classes because that is format they want and they might not enjoy the online experience or it may not work well for them. So, as Jenn mentioned, communicating is important and there are tools for that.
Again, as mentioned before, you can integrate interactive elements into your content. You can decide when new content gets posted and made available (so as not to overwhelm students with massive dumps of content at one go) and notify students when there is something new for them to check out. And, of course, you can use the retention center to see who seems to be losing ground.
Needless to say, all of this requires some thinking as there is no one-size-fit-all solution. It all depends first and foremost on your content. It also depends on how long we would be working remotely. But it is always better to be prepared. so, I am personally making a plan for my f2f classes, like, right now, as to what happens in we have to migrate online. Again, for me, it would not be too burdensome. For some of us, it might be. All the more reason to start now.
And say, you create some really nifty online content and we end up not having to cancel on-campus instruction? Well, guess what. You can still use your nifty content and save some class time for activities and other things. It won't be wasted and you may have learned a couple of skills along the way.
None of us wanna be caught like: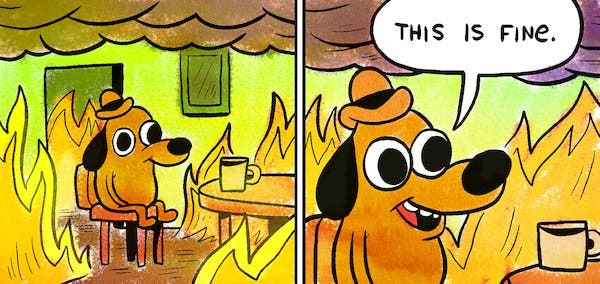 Thanks for reading.
Christine
A Note from Learning Technologies: Should we close the campus for an extended period (for viruses or any other reason) Learning Technologies will be responsible (in partnership with other campus organizations) for helping you learn how to use many of the tools for teaching/meeting/still doing your job online. We urge anyone who has an interest in learning more about teaching online, using Blackboard or Blackboard Collaborate Ultra to come in now, rather than waiting, for training and support. Additionally, we do have a couple of Camtasia licenses (they are on computers in our office) as well as a list of alternatives to Camtasia. For any questions, please contact us!